Buzzbar
+
2016-2021
Buzzbar, co-founded by me and Anna Downey aims at becoming the accessible and affordable alternative to Creative Agencies and Freelancers. The Buzzbar model works by offering on-demand, side-by-side sessions with design, web, marketing, video and photography specialists, on a flat hourly fee, without restrictive contracts. Since inception, Buzzbar has received hundreds of recurring clients in its high street shopfront location in Shoreditch, London. Buzzbar's innovative model proved successful with both large clients, such as Gap, NHS, Dr. Martens, Boxpark, and smaller ones, where we had the chance to be more closely involved with the seminal stages of new projects, developing prototypes, branding and marketing strategies.
My role as CTO was to lead the creative and tech teams on internal and external projects, while also working on web, software, photography and video client projects. Buzzbar's main internal tech project is a custom web platform used to manage projects, track times, create and approve projects, keep client data and process invoices and payments. With it's mostly automated procedures, the Buzzbar Web App is used to debit payments for each work session, reducing admin work and fixed costs. The platform is developed using PHP, Vue.js and a range of external systems linked via APIs and Webhooks.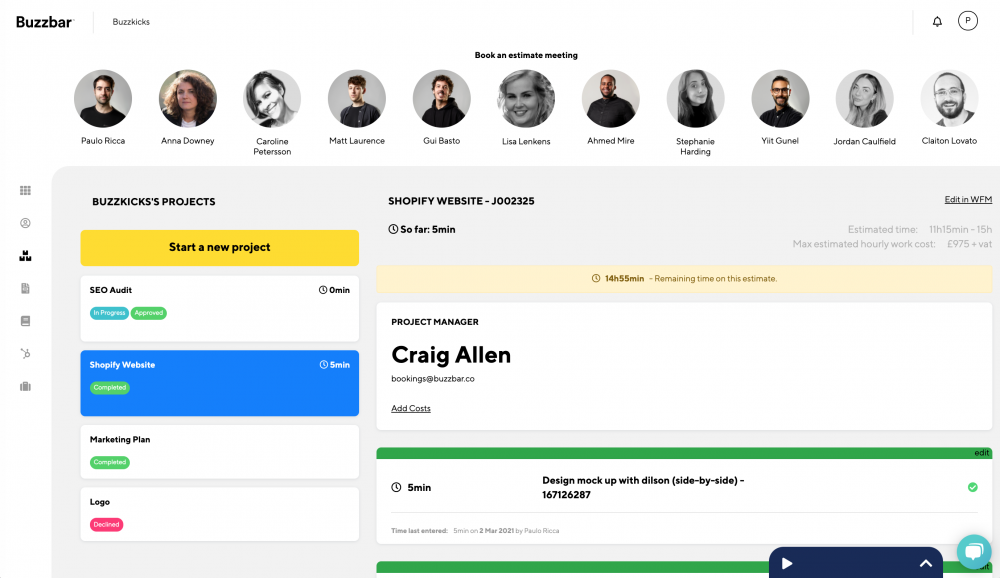 Buzzbar featured in the press:
Forbes – The New Agency Model That Big Brands Are Flocking To
Sifted (by FT) – Marketing agency Buzzbar is reshaping the marketing industry
During my management at Buzzbar, we've secured funding and strategic partners, which allowed us to scale the team, develop our internal tools, and open the venue in a prime London location.